DEAD BEAT MEDIA & KANDAR MOSH DISTRO RELEASES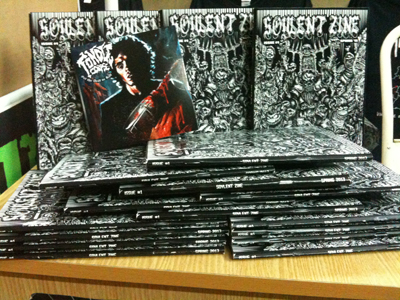 The debut issue of Soylent Zine is finally out now!


Soylent Zine Issue #1 is OUT NOW!

90 Pages, Pro-Printed with glossy cover, English Language, A5 Size

The cover art was done by Ironworx Gravefix and is a tribute to Fondlecorpse, one of the greatest Underground death metal bands of all times. It depicts the Goregnome sitting on a throne in the Jungle and surrounded by his army of Critters, Gremlins and all manner of new recruits from the Malaysian jungles!

Interviews with: Fondlecorpse, Kam Lee, Possessed, Sorrow, Machetazo, Ruinebell, Hooded Menace, 62nd Chamber Productions, Stiff and Cold Zine, Tales From The Sick Zine, Rotgut, Nadir, Cauchemar, Bizarre Charlie Alien and Anima Morte plus columns, reviews, etc.

There is a normal version with the zine only, and a Die Hard Version (Zine + Limited Edition Fondlecorpse 2-song Single CD).

To see more preview pictures, visit the SOYLENT ZINE facebook page: www.facebook.com/soylentzine



---
CLICK TO ENLARGE


Click here for info, reviews, sound samples and videos.

HUMANITY DELETE
"Never Ending Nightmares" CD
DBM 004

Death Metal with grind/punk elements from Sweden's most prolific extreme metal master, Rogga Johansson! With a lyrical theme of Asian ghosts and folklore mixed with post-apocalyptic terrors, this is one album that's sure to have you sleeping with the lights on for weeks! With guest guitar solos by Lasse Pyykkö (Hooded Menace). Cover art by Adam Geyer, with inner artwork by Ironworx Gravefix, Adam Geyer and Dzul Skam. Layout by Silvester the Goregnome Koorevaar. Mixed/Mastered by Ronnie Björnström.

".. [Rogga Johansson] clearly has a passion for the cacophony of the dead rising from their graves.. the horrific tandem of grinding sounds and blast beats can be heard in abundance on Black Oil Defiler and Dismal Corridors.. the grinding tone gets even nastier on "Resurrection Rites" and like a raging beast charging from the darkest depths, "Necromantic Sorcery" really hits home.. the middle section is deliriously hideous sounding and it's guaranteed to get the hair on the back of your neck standing upright!.. this debut release is like a rabid dog and teeming with a vicious assault.. there's plenty of bite to go around and Johansson is a one-man wrecking crew, probably demonically possessed by a Malaysian evil spirit to boot..." - from BLISTERING.COM, review by Kenneth Gallant


Malaysia: rm20
World: $10 U.S.

---
THE ROTTED
"Ad Nauseam" Cassette
DBM 003

THE ROTTED play old school D-Beat death metal. Dark nihilistic lyrics are spat out over a wall of heavy fast as hell music, just like your mother used to disapprove of. Imagine a four-way car crash between British Punk, British Metal, British Grind and Swedish Old School Death Metal like Entombed and Dismember. The Rotted are the soundtrack for the end of days.

Originally released on CD by Candelight Records, Dead Beat Media has licensed the album for a special South East Asia Cassette Version!



Malaysia: rm10
World: $6.66 U.S.



---
DEAD BEAT VOLUME ONE
COMPILATION CD
DBM 002 Featuring: Haemorrhage, Bone Gnawer, Fondlecorpse, Ribspreader, Altar of Giallo, Rotgut, Revolting, Oltretomba, Sakatat, Nonserviam, Blood Legion, Lavatory, Goresluts, Satan's Sperm, Deathevoker, Gruesome Stuff Relish, Goregast, Bloody Phoenix, Spitzum, Wormfood, Humiliation, Deadly Weapon and Gore Cadaver. Cover art by Adam Geyer!



Malaysia: rm15
World: $5 U.S.



---
AGATHOCLES
"Razor Sharp Daggers" Cassette
MOSH 014

The most outrageous album from these Belgian grinders has now been released for the first time ever on cassette by Kandar Mosh Distro! Features the original cover art from the initial 1993 release but all new layout. Limited Edition of 200 Handnumbered Copies! Grab this album and Mince the night away!





Malaysia: rm8
World: $6.66 U.S.
---
RUPTURE
"Jubilee: 49 Greatest Hates" CD
MOSH 013

The devils of Bonobo punk, Perth's most controversial band, legendary RUPTURE, return with a new CD- the Asian release of their first 'greatest hates' CD. 49 of their most despicable, HATE-filled songs dedicated to HATING everything in this world and selected HATEFULLY by the original band members. Guaranteed to make your wife HATE you for playing this loud. Comes liner notes by Plastic B., a fellow ex-Perth punk and friend, the details of the release and year of recording for every song, as well new cover artwork. Co-released by Kandar Mosh Distro, Rest In Punk Records and Monkey Motherfucker Productions.





LIMITED AVAILABILITY


Please EMAIL US to order!
---
MACHETAZO
"Crypt Marrow and Desolation" Cassette
KMD 012

21 tracks from this cult horror death grind band from Spain, taken from their sold out "Mundo Cripta" LP, split w/Marrow LP and "Desolacion Mental" EP. Classic old school gory death grind mixed with the sounds of old Napalm Death. Now you've got something to blast on the decrepit stereo of your wretched old Datsun! Pro-Cassette limited to 200 copies hand numbered.





SOLD OUT!



---


ROCKY VS RAMBO
4-WAY SPLIT 7"
KANDAR MOSH DISTRO
KMD 011

FEATURING:
Everybody's Enemy (JAPAN)
Weot Skam (MALAYSIA)
Snakepit (CANADA)
Hateful Monday (SWITZERLAND)

All fast/thrashcore bands contribute their songs to the two toughest movie characters ever. Limited to 250 copies.

RELEASE DATE: 2011
FORMAT: Vinyl
PRICE: rm15 malaysia / $10 US world

SOLD OUT!

---



DAMAGE DIGITAL
LIVE AT BECK OMURA NAGASAKI CASSETTE
KANDAR MOSH DISTRO
KMD 010

The longtime legendary grindcore band from Japan now releases their live recording at Omura Nagasaki from October 2009. Limited 200 copies hand numbered.



RELEASE DATE:

2010




FORMAT:

Cassette




AVAILABILITY:

SOLD OUT





---



DISHAMMER
COLLECTION 2008-2010 CASSETTE
KANDAR MOSH DISTRO
KMD 009

A perverted overdose of raw diabolic metal punk from Spain. Limited to 200 hand numbered copies.



RELEASE DATE:

2010




FORMAT:

Cassette


AVAILABILITY:

SOLD OUT





---



F.K.U.
SOMETIMES THEY COME BACK... TO MOSH! CASSETTE
KANDAR MOSH DISTRO
KMD 008

The Swedish metal thrashing horror fiends are back (to mosh) with their second album on cassette format. Limited to 200 hand numbered copies. This band has now signed to Napalm Records!

RELEASE DATE:

2010




FORMAT:

Cassette




PRICE:

rm6 malaysia / $6.66 US world



SOLD OUT!


---
TERROR FIRMER / MINKIONS
SPLIT 7"
KANDAR MOSH DISTRO
KMD 007
New Split 7" between these old school thrashing maniacs! Terror Firmer is a fast combo devoted to old school thrashing grindcore in the vein of Repulsion, Heresy, S.O.B. and Napalm Death. Minkions is raging 80's thrashcore influenced by D.R.I., Cryptic Slaughter, The Accused and Wermacht!

CLICK IMAGE TO ENLARGE

RELEASE DATE:

2010




FORMAT:

Vinyl


AVAILABILITY:

SOLD OUT





---

WEOT SKAM
BREAKING CASSETTE EP
KANDAR MOSH DISTRO
KMD 006

Penang's Long standing Hardcore/Punk/Fastcore maniacs are back with a new cassette ep titled "Breaking" - dedicated to the breaking of all the things involving racism, fascism, greed, arrogance, lack of respect for each other and conservative thinking in our society. Seven insane tracks that will break open all closed minds! Limited to 200 hand numbered copies. FIRST 100 ORDERS GET A FREE GLOW IN THE DARK WEOT SKAM GUITAR PICK!

CLICK IMAGE TO ENLARGE


RELEASE DATE:
2009
FORMAT:
Cassette
AVAILABILITY:
SOLD OUT
---





---