Here's an interview with the man himself, CURBY from OBSCENE PRODUCTIONS. He's brought Grind to the masses and made the Czech Republic THE place to go for metal with his OBSCENE EXTREME FESTIVAL. He's travelled the world and now he's taking OBSCENE EXTREME FESTIVAL on a world tour! Read on for more info.. all you South East Asian metal fans will be happy to read the details of the FIRST EVER Obscene Extreme Fest in ASIA!!!


Hey Curby, how are you doing? Ok first please talk about yourself. What do you do besides the label? How old are you? And tell a bit about your family. Also, how many interviews do you get in one day?

Hi, I'm curby/obscene, having a good time doing this interview. I'm 38 years old, feeling still young, I have 4 kids (2 daughters and 2 boys) and I have also a loving girlfriend and a pretty much beautiful life…I do what I like and I wish that to everyone!!! My family, kids are crazy and they drive me crazy sometimes but I think this is the right attitude hahaha…Anette is 19 so she does her things, she is vegan and quite a fine person so I'm all happy, all younger kids play football, we travel a lot together…
Interviews? Not many but I have just done a super long interview to Russia, with like 35 questions!
When did you start Obscene Productions? What made you decide to do a label?
I started the label in 1995, but I was active even before...I was really a big fan of this music and I still am. There's nothing else in it…I just wanted to support my favorite music…I started as a member of different fanclubs, then I did a small DIY fanzine, then a magazine, and it was really a natural step how to support bands even more so I launched Obscene productions as a label and a mailorder…in the past there was no chance for Czech bands to be released by some Western label so I just wanted to give them this chance and I started to release EPs, tapes, then CD's, organized tours for Czech bands and simply tried to put our small country on the World's metal/grind map…and it really happened I guess so my mission was complete and that's why I started to work with some international bands as well. Of course in the beginning of my label I didn't have money and I had a lot more problems but this shows it works, you must try and do your best...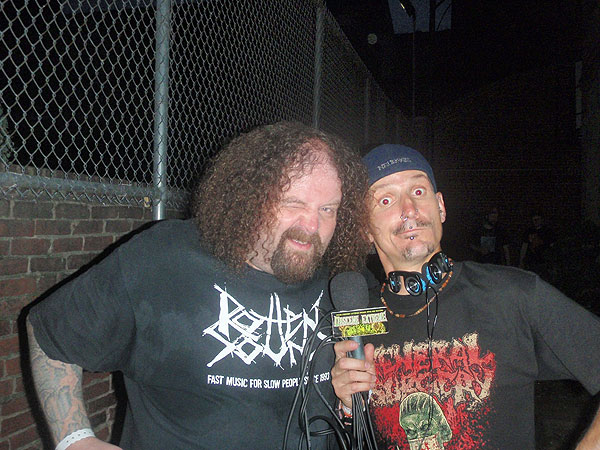 You have a lot of great bands that you've released. It's really hard for me to pick just one as my favorite. But let's talk about the band Cripple Bastards. You have released their cds and they have been playing the Obscene Festival for a quite some time. How did you first meet them and become friends? Seems like at the Obscene Festival, everybody's been waiting to see them. How come they didn't play in Obscene Fest 2012?
Yeah, CRIPPLE BASTARDS, my Italian brothers! Ufff…not sure when we met for the very first time, maybe at the first Obscene Extreme in 1999? They played an awesome show then they went to Poland for another show, came back to my place and I did a huge birthday party in my village where they even played if I am not mistaken…it was an incredible party man, my parents/family, people from the village, cripple bastards, all drunk hahaha…then in the morning they had an accident on their way to Prague so it was like great moments changing with very sad moments…but I tried to help them as much as I could and since that time we are almost brothers…I 'm very often in Italy for vacation, shows, tours, watching football, family trips and I never forget to visit them!!! Yeah,. they really often play at Obscene Extreme festival, but I don't want to invite them every year, why? It could be very boring…
This is old news but let's talk about the infamous CRIPPLE BASTARDS "Almost Human" CD by Obscene Prods #039. I think it was released in 1999 or 2000? Do you still have that in stock? The cover art had been criticized by some people, and the band even got banned from playing somewhere because of it. There has been a lot written about this on the Cripple Bastards website, in interviews, dvd, etc, but what do you think of this whole situation? Do you regret that release? Or regret approving the cover artwork?
Yeah, I released it in 2000 I guess. It's sold out for long, long time…we were talking with Giulio about re-edition several times but nothing is sure yet…
I can understand this cover is really brutal and some pc dudes can go crazy after just watching it, but this is all about the loss of humanity of humans, if you go a little bit deeper then I see nothing really controversial...it's brutal but this world is totally brutal as well. So I really stay on Cripple Bastards side and I have no problem with this record, or the cover…some people just don't want to see the reality but that's not my problem…and of course there's lots of people doing just blablabla thru all the forums and so on…


I believe that cover art is taken from Italian horror movie or something. Are you an Italian horror movie fan?
No no, this cover is not from Italian horror movie…it's from "Forced entry" - the story of a Viet-vet affected by psychosexual compulsions driving him to rape and murder defenceless women. Really crazy movie, banned in many countries!!! And of course I'm a fan of Italian horrors, no doubt!
Another release from Obscene Prods that I have is GRIDE "Zaskuby Chaoso" and it's your number 98th release in the late 2011 if I'm not mistaken. By this time, I think you are up to 100 releases or more. If so, congratulations and what is your 100th release? Did you do something special for number 100?
Yeah, GRIDE is a very special band, really unique and original!!! I like them since their beginning, maybe you know I released their first demotape back in the days hahaha…and their last album is awesome!!!
Yeah, I have just released OBP 100 and it's Obscene Extreme 2012 compilation, I didn't have any plans and it went this way…but it's good as Obscene Extreme and Obscene productions have been going hand in hand for a long time together now…to be honest I don't have much plans for Obscene releases…I really want to support band, give them some cash for studio etc. and it's pretty hard those days as selling is worse and worse…


How do you see/pick the bands to be released by Obscene Productions? How does it work? Is it only you who searches for the bands to release? How many releases do you make in one year? Do you have any target for the number of releases you put out each year?
Nothing special at all, I just have to love the music and also the people from the band. It's more about friendship than anything else…I am always trying to support friends! And of course a good thing and a big plus is when the band is active, doing some tours, doing shows, festivals etc.
Yeah, it is just me who is responsible to pick up bands for Obscene release, but lots of friends recommend me some good bands for OEF or for label and lots of bands do write me directly of course. I don't have anything like this year I have to release 5 records, nothing like that…look at my plans for 2012, I have just released a record number 100 and now I am seriously thinking where to go with my label…it's difficult to do a label…but right now I was talking with awesome Finnish grinders FEASTEM about releasing their new album "Avaritia Humanae". Also I have talked to a Slovakian band CAD to re-release their last album "Tazky Kov". Beside that I have not much plans what to do…


The band BIRDFLESH released their 4th album by Obscene in catalog number OBP 085. I think itís in 2008. It's been 5 years now. Can we expect any of new Birdflesh release out from Obscene anytime soon? How about their current tour?
OH, BIRDFLESH is my very favorite band as well!!! Such a great people and great musicians and they just do their music for fun! Also their shows are simply incredible!!! When I see them anywhere, anytime, I'm smiling and have a really good time! I talked to Adde the other day and he is super busy with GENERAL SURGERY and ENTRAILS and BIRDFLESH have something like a little break, but I promise they will be back in 2013, but I can't say more right now…
After INGROWING's show in Malaysia a few years ago, you noticed a lot of extreme music fans here. You began working with Kia (Tools of The Trade, Mass Separation ex-drummer, Symphonic Blast Records) to run an Obscene Productions Asia (OBPA) in Malaysia. The first release out from OBPA is a Cripple Bastards "Desperately Insensitive" CD. But I never saw any release after that. Can you tell us what happened? Does OBPA still exist or you just consider it as being on hiatus?
Kia is a good dude, but times are pretty hard and selling bad so we just tried that CRIPPLE BASTARDS release and distribution of other Obscene records but then we slowed down with everything and simply finished it as it makes no sense anymore…OBPA doesn't exist anymore…it's a shame but we are coming back to South East Asia with Obscene Extreme festival now!!!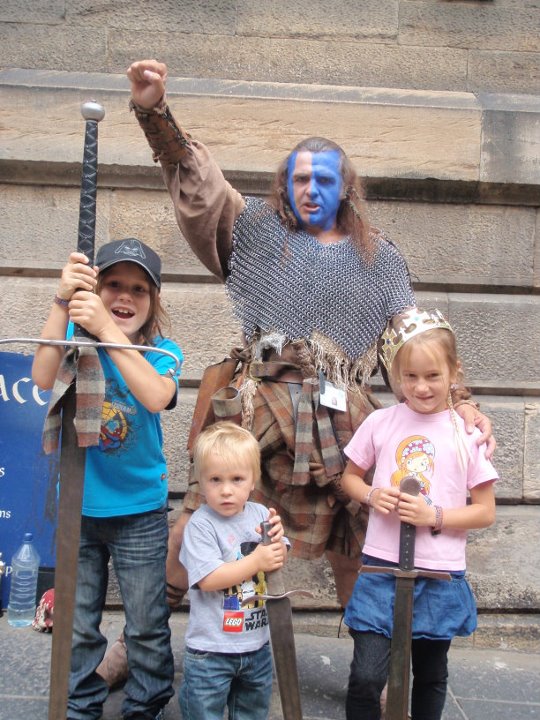 I know this is hard to answer but if somebody was threatening you within an inch of your life, what would you pick as the favorite of all your discography of releases so far, and why?
Hahaha, crazy, almost impossible!!! Maybe CRIPPLE BASTARDS – Blackmails And Assholism double DVD…we were working on this DVD for so long time, maybe couple of years!!! I was in Italy to record some interviews, Giulio went to Czech couple of times, then they did like super tight editing of the whole thing…it's absolutely an awesome release, something really special…it's everything about CRIPPLE BASTARDS, two angry kids started to play just from frustration and passion then they did US tours and so on… really a nice story as well!!!
Now let's talk about the very successful annual OBSCENE EXTREME FESTIVAL. Do you ever have any problems with the government or maybe some religious organization or anything like that, while organizing the fest? If you don't mind, can you tell us how much money you spent organizing the first ever Obscene Extreme Festival in 1999? Is it much more expensive to run the fest now, in 2012?
Little bit of history - Obscene Extreme was born as an answer to such a great German event FUCK THE COMMERCE…I visited this fest back in 98 for the very first time and also I always wanted to do some bigger festival in Czech for really extreme music 'coz a festival of this type was missing in Czech and in the whole Europe I guess…and at the very beginning my idea was to do a bigger birthday party…I had 25 back in 1999 and it was just a great timing to do a festival like this…but to be honest I wanted to do just one festival and stop it, but reactions of fans, bands and all people were simply amazing and that's why I have been continuing with this work till today…and I still enjoy this weekend as in the beginning, people are still going crazy for grindcore and I can see many., many satisfied die-hard grind freaks that really love this event and it's just the power to continue and do it better next year…I still feel big passion for this type of music even I listen to grind from 85 or 86…and to the second part of the question…in the beginning it was an uneasy thing to do a fest like this but every year I have more experiences and I can do this fest better…anyway it's still the same as the first fest, a fest made by fans for fans, nothing else…
And of course the budget for 1999 and 2012 are two totally different stories hahaha…it's very expensive to do a good festival those days, especially when you want a top notch sound, lights, led screen, good festival area and so on…actually I'm not sure about money I spent in 1999 but it was something like maybe 5% of today's budget…and believe me or not but we have never had problems with the government!!! Not even with a religious organization, we are atheists in this country so no problem at all…


You've recently announced an OBSCENE EXTREME tour, one part of which will take place in Asia. Can you please tell how this idea came about? What made you decide to take Obscene Extreme on tour?
Actually I have been having this idea in my head for a long, long time…maybe for like a couple of years when I toured Colombia, Ecuador, Peru with FLESHLESS and Thailand, Malaysia, Singapore and Indonesia with INGROWING…Those were super bomb tours with fans who were so hungry for extreme music and who had
so much passion for our thing. That's why we picked up countries where to move with OEF very carefully, I think we can bring something very special and unique there and it can help the local scene as well…and of course, fans from Mexico, Indonesia and Australia are so far away and just their travel expenses are so huge that I decided to do something for them and move OEF closer to their homes…
Where will each part of the Obscene Extreme take place, and when?
We'll start with Obscene Extreme America in Mexico next year between March 28-30, Thursday there will be probably just a pre-fest in one of good clubs of Mexico city and next two days will be a classical open air madness with 50 bands…maybe we'll do also an aftershow party…so far we are searching for a good venue as it's really important…especially in Mexico it's very difficult as they have no open air festivals there…just once a dude tried to do an open air (Metal in Jungle festival) couple of years ago and that's all…so quite challenging for us…we believe we could have like 50-60 bands playing OEFA, sooner or later you'll find their names on this website > www.obsceneextreme.cz/america
Then Monday I will fly to Jakarta and do Obscene Extreme Asia on Saturday, it's 6th April, so far it looks it will be just a day full of grinding, it's because the payment for festival venues is crazy expensive in Indonesia…it's kind of weird but we can't change it much…anyway maybe we'll do also a pre-fest on Friday 5th April! The venue should be confirmed pretty soon, see this website, I can promise a grinding Asian edition and we'll announce the first bands pretty soon! Check www.obsceneextreme.cz/asia


Then next Monday flying to Australia and doing Obscene Extreme Australia in Melbourne from 11th till 14th April…so far in Australia it looks like we will do a pre-fest on Thursday in a smaller club, then 12th and 13th the festival in a big indoor place and an aftershow on Sunday in a famous Melbourne's club. Something like kiss me good-bye vegan bbq and so on. Of course Australia is so far away that we'll have lots of local bands, but still some European bands as well. See www.obsceneextreme.cz/australia for more info!
And of course in July, between 3 – 7 our root festival in Trutnov Czech republic with 69 bands and surely an awesome line up. We'll start to sell tickets quite soon this year, all info under www.obsceneextreme.cz!
I wanna bring that OEF vibe to every country and we'll try to make it like our own OEF, I really hope and believe that people will help and support us as it really matters!

What bands will be playing on the tour? Will it be the same bands for the whole tour? Or will it be your favorite bands from the country you're playing in?
Every OEF will have a different line up so it could be even more interesting for those who have the holiday fever like me hahaha…I can't say bands` names right now, but I 'm in contact with really killer bands and every festival will be very special! Surely not the same bands at every show as all festivals are in different continents and it could be very expensive to do that…I'm pretty sure that for example in Mexico we'll have lots of bands coming from the Usa as it's kind of close…but still I wanna keep that international character for every fest so I'll try to invite many bands from different countries…and of course that also the local scene will get what it deserves as scenes in Mexico, Indonesia and Australia are great and with lots of good bands! Just please wait a little bit. In a few weeks we'll announce the first bands for every festival!


Do you have sponsors for this tour? How difficult is it to organize something so big? What are all the things you have to do to organize such a tour?
Actually no sponsors, we don't have big sponsors that pay us "millions" even here in Europe…our only and main sponsor are fans that like extreme music like us…they showed us a huge support during all the years in Europe and I believe we can find similarly good fans abroad in every country where we'll do Obscene Extreme. It's really important as next year is the starting volume for us so we need that support from all of you…of course we'll do a huge Grind market at every of our festivals so you're more than welcome to be a part of Obscene Extreme Asia!
It's not that easy to do the whole OEF 2013 World Tour, but on the other hand, I'm happy to be busy…it's actually my life style…I always need to do something, think about something new…right now we are searching for best possible festival venue in every country as this is really important Then I have started to book the first bands and I'm glad that most of the bands really enjoy that idea and they want to play OEF even in Mexico or Indonesia!
The last question is the best hahaha…thousands of things have to be done, but we still have a couple of months and 15 volumes of OEF experience and even more in the underground scene. As for me I believe we can do really good festivals everywhere we want. I don't want to play any games with OEF so I control everything as it's really important to do OEF in a high quality and enjoyable for all the fans!
Anything else you'd like to add about Obscene Extreme Asia Festival, or Obscene Extreme Fest Tour in general?
Come to join us and meet us at those shows! I promise it will be something very different! See you all in 2013!!!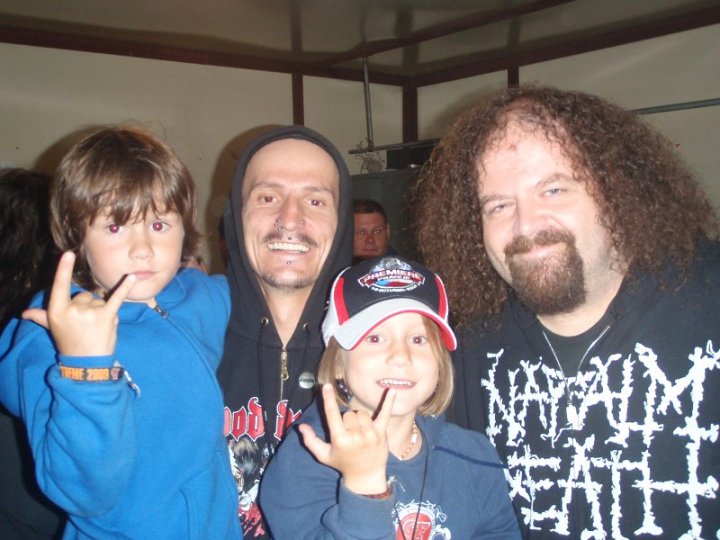 Another thing that you do is a show call Obscene Society. What is Obscene Society? I guess the word 'Society' is coming from Insane Society Records. What's the difference between Obscene Fest and Obscene Society? What is your relationship with Barvak of Insane Society Records? I knew Barvak for a very short time. I used to order shirts and records from him back in the late 90's and 2000's. Really nice guy. Lost contact with him though. How do you like working with him? Do you live close to each other? What makes you want to do another show besides the big Obscene Festival?
Obscene Society is a festival that we do together with Barvak, the owner of Insane Society records as you said, it's an anniversary of our labels, Obscene productions and Insane Society records. Our labels were borned on the same day!!! I released HERMAPHRODIT EP and Barvak did his first EP record the same day...actually he helped me to release this EP as I didn't have some necessary papers to do that hahaha! Next year we will celebrate 18 years!!!
Barvak is my old time friend, really a good dude, working on DIY basis…he is more in hardcore/punk than me but we are good friends since ages…he also brought me the first info about vegetarianism and so on, I owe him really a lot!!! He lives like 25 km from my place so we see each other really quite often…also still in contact thru ICQ and so on, we cooperate, help each other like back in the days…
Obscene Society festival is a small club show with 10 bands, lots of Czech bands, couple of bands from abroad and one nice party… we usually invite bands we like like DISFEAR, EXTREME NOISE TERROR, PHOBIA, CRIPPLE BASTARDS, RATTUS, MOB 47 and so on, they fly in on Friday then we can hang out a little bit…I think we will continue with this even people do not come to the shows in Czech that much anymore…
As Malaysians, we are proud to see one of our grindcore bands TOOLS OF THE TRADE together with our fellow Asian grindcore comrades, WORMROT and long time grinders, DEMISOR playing together in Obscene Extreme 2012. How do you know TOOLS OF THE TRADE? Do you think they played a good live show? What do you think of Asian bands? And the well-known grindcore band WORMROT? What about DEMISOR? How do you know them?
Oh, I know Tiong for a long time!!! I was in South East Asia with my kids and girlfriend back in 2006…we were in Malaysia couple of days, Kia (ex TOOLS OF THE TRADE drummer) picked us up at the airport, we went together to Penang then we went to Johor Bahru or some city close to this where we met Tiong, we spent some time together, we visited their rehearsal place and then Tiong showed us some places around and arranged for us a nice trip to awesome Tioman islands!!! Great times!!! Since that we are in contact and I'm more than happy I could invite them for OEF 2012!!! They played an awesome show!!! Those guys really kick ass, also their show at Aftershow party was simply incredible!!!
You're right, this year it was like an Asian grind invasion hahaha! WORMROT are grinding perfectly!!! They know what they do and they do it with passion!!! Excellent live shows!!!
DEMISOR – another old time friend Fahmy (we also visited his place and his family on that trip back in 2006, he is such a good person, he offers us a room everytime we fly to Singapore for the whole family!), another great dude! He organized the show for INGROWING in Singapore in 2005 and also DEMISOR played that show and I was shocked! Such a great show!!! I still remember it, when they played Inhale/Exhale cover I was close to the grind heaven…
What do you think of the crowds at Obscene Extreme Festival? Do they behave well and follow all the rules in the park? Is it frustrating that you have to keep reminding the stage divers not too stay too long onstage? (I guess this is for the safety of the bands and equipment)
Our fans are very loyal and die-hard fans of extreme music and they show us support every year!!! If you're friendly and you want to enjoy weekend with us than everything is fine with me!!! And that's what our fans do every year. Sure, sometimes we have some little problems with people that don't know how to stage dive but it's nothing really serious, we have really good OEF crew that take care of them…and remember another OEF plus, we are freak-friendly festival, it means we don't care if you are different, it's big plus to be different in those days when money and career is sooooo important…most of the people care what other people think about them and it's juts bullshit to me, if you're a good person then you don't' need to care about what other people think about you…why?


What year is the most successful Obscene Extreme Festival do you think? What year did you have the biggest crowd attending?
2012 was really a great volume! So many unforgettable shows, NASUM that was simply brilliant!!! WOLFBRIGADE, CREATIVE WASTE, COKE BUST, BLOOD, BLOCKHEADS, YACOEPSAE, CAD and it's just a few bands I saw…Also 2011, I simply don't remember a bad one…in general the festivals last year are really great, with a great support of fans and great shows of bands and so on…and year 2012 was the best for sold tickets as well!
I have your 1st Obscene Extreme Festival 2003 DVD with one camera angle you put out. It's quite good actually. The next year after that, it's got 6 different camera angles. Do you make DVDs for every year after that? Is every year's DVD available to order?
You know doing underground DVD in 2003 it was something incredible, we spent so much time on it and we were total amateurs, it's just incredible we did it in the end! It was so many hours of watching, editing and so on…of course it could be better, but it's almost 10 years ago! We also released double DVDs from 2004, 2005 and 2006. It was simply too expensive to make it so after 2006 we continue on our OEF YouTube channel, check it out > http://www.youtube.com/ObsceneExtremeFest. We are trying to do it better every year…two years ago we started to work with a polish crew Lunatic Media and they work in a very professional way and also the sound is ways better than before!!!


How do you choose what bands play Obscene Extreme? I notice a lot of different bands and genres play there. You have EXHUMED, DISCHARGE, IMPALED NAZARENE, POISON IDEA, NAPALM DEATH and NASUM. Totally different, totally good and awesome bands as well. What would you say if a band like FOO FIGHTERS or BLINK 182 asked you to play the fest? How about hardcore bands like EARTH CRISIS, ALL OUT WAR etc. Do you think you would allow them to play, or are they not extreme enough to suit this fest. What is the best story you have from Obscene Extreme Fest? (Funny, scary, etc). What is the worst story you have?
Sure, I like many different forms of extreme music!!! That's why so different bands playing OEF…FOO FIGHTERS and BLINK 182 will never ask us I bet and they have nothing to do on our stage at all…they have nothing to do with OEF attitude. EARTH CRISIS are really a good band for things they do for sure…I also like some old school hardcore bands like AGNOSTIC FRONT or SICK OF IT ALL…

Shit story is D.R.I., I think I did maximum to bring them to OEF, I paid all travel expenses to them, I paid all fee upfront (even in contract was 50% and 50%), but their manager pushed me to the wall and I had to pay another 50% just before the fest, then you know the story…just the singer and the drummer arrived and played with a Czech guitarist and their roadie Mike on bass. It was just a 20 minutes show, but I was happy even for that…anyway their singer Kurt told me they will figure out the fee when they go back to the Usa, but they just did't answer my emails and their manager called me a loser from the third world, so this is really a lack of respect…I feel its just a rip off, shit happens of course I totally understand this, everyone can have medical problems…but taking all the fee, no sorry or an explanation what really happened? I still don't know I can just speculate about it…
We had also a huge storm back in 2001 but all went great, after a 2 hour break we started to play again and EXHUMED or HAEMORRHAGE after the storm just smashed it all with one of the best live shows I ever have seen!
Then I can also tell stories of drunk as fuck bands, especially from Scandinavia but I have to be discreet hahaha…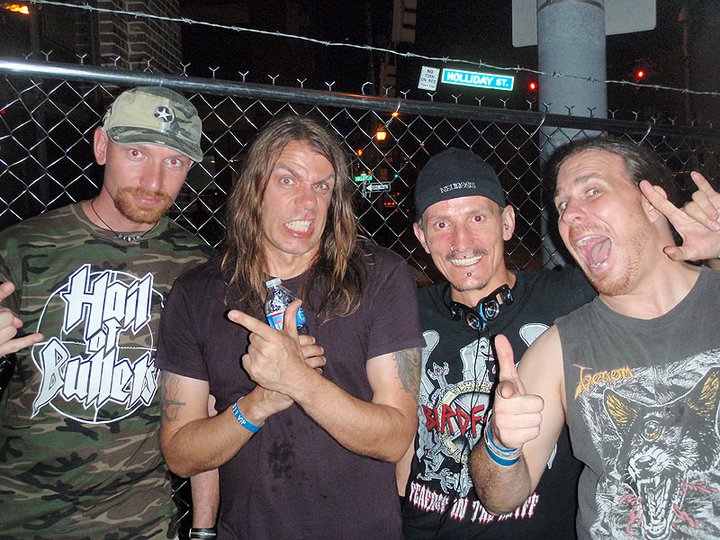 I think everybody knows that you are football (soccer) fan! I remember when Kia brought you to Penang and we all had dinner with you at the vegan restaurant here, we were talking a lot about football. I read in another interview that you like Argentina for the World Cup. Do you still love them? What other football club do you like? I saw once you are wearing an Arsenal sweatshirt. So you must love them I think? Do you still play football in your free time at home?
Yeah, football is a mania, it's a passion, it's almost everything! I play and follow it since I was 4 or 5 years old!!! So you can imagine how big passion it is for me…and when I was that small kid I saw Argentina for the very first time and they had long hair and I really like them and my father was big fan of Brazil so easy to understand I chose Argentina, and they also won that World cup in 1978 so it could help as well..since then I really like them and support them! Of course I also support our Czech team but coach of our team is so bad that we play just a boring football those days…the era of great Czech players like Nedved, Koller, Smicer or Poborsky is gone…
Actually I have a favorite team in every league, like Arsenal in England, Juventus in Italy (since Boniek and Platini times), of course almighty Barca in Spain, Boca Juniors in Argentina and so on…I like technical football but those days it is more about athletics than technics so I'm more than happy when I see a player like Lionel Messi, so small and so good…just incredible!
Sure, I still play football, like 4 times per week, it's like a drug…can't stop it even I'm almost 40, I am fighting against still younger and younger kids hahaha…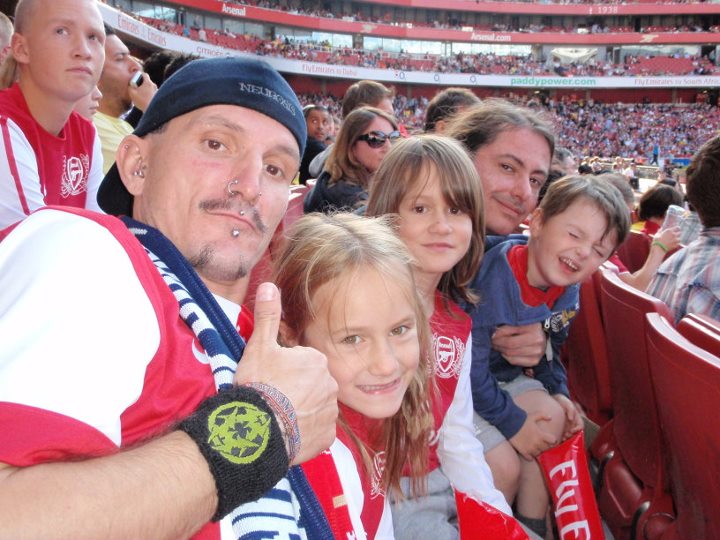 Beside Extreme Music, family, kids, football, vegan and traveling, what is the other thing about Curby that you think everyone should know?
I'm always trying to be a nice person, that's all…I really follow what I like and I support it as much as I can and I try to spread a good mood around me!
Thanks for the interview Curby. Hope to meet you again sometime, do you have any plans to come back to Malaysia?
Thanx a lot for an interesting interview!!! I hope to see you all at Obscene Extreme Asia 2013, check our webpage www.obsceneextreme.cz/asia and join the party!!! Hopefully I'll be back in Malaysia on one nice day!!!
Curby/obscene



---