INTERVIEW WITH ROGGA JOHANSSON
by Lasse Pyykkö

A SWEDISH DEATH METAL RIFF-MACHINE. THE MAN OF COUNTLESS BANDS. ONE OF THE HARDEST WORKING GUYS IN DEATH METAL. DOES HE EVER SLEEP? YEAH, YOU PROBABLY GUESSED WHO I'M TALKING ABOUT .. THE ONE AND ONLY, ROGER "ROGGA" JOHANSSON, KNOWN FROM DEADLY ACTS SUCH AS PAGANIZER, RIBSPREADER, REVOLTING, DEMIURG, THE GROTESQUERY AND PUTREVORE TO NAME JUST A FEW. ROGGA WAS KIND ENOUGH TO ANSWER A COUPLE OF QUESTIONS I THREW AT HIM. SIT BACK, MAYBE PUT ON ONE OF HIS RECORDS (EVERYBODY HAS AT LEAST ONE, RIGHT?) AND LET THE MAN HAVE A WORD. - LASSE


Tell us a little about your musical upbringing and how you ended up playing death metal.
I guess it was the same for me as for many back then, in the 80's when you were a small kid. Some older guy showed me stuff like Helix, Judas Priest, Iron Maiden, Kiss, Accept and all that stuff and I was hooked. First two albums I got with my own money was Kiss "Love Gun" and Iron Maiden "Killers". Needless to say I didn't play the Kiss album much, haha. Iron Maiden was the shit and I loved that album, both the music and the cover which to me was so cool and creepy. Through the years I got more interested in making my own music, and I did different stuff both industrial music, and more punk stuff before really settling and understanding that death metal was something I could do, and that I could do it cool enough too. I think I started my first death metal band 1994 when I was 17, it was called Terminal Grip and a few years later it became Paganizer when we reformed and exchanged the drum-machine for a real drummer for the first time.
You´re a super productive musician. Tell us something about the songwriting process.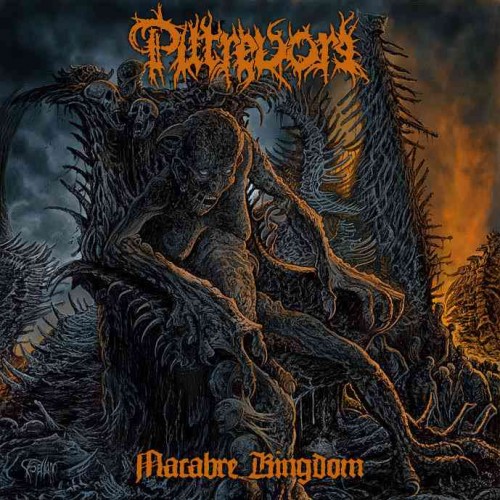 Yes they say that about me, haha. I've always liked to make music, and I´ve always made lots of it too. I guess after a few years it just became easier and easier, the cheaper home recording gear got. At first the porta player and then the digital versions, and the last ten years the computer based stuff. These days it's really much like many years ago. I just sit down with the guitar and try out some stuff, and record it. I guess the difference with me and many others is that I keep most stuff and finish it as songs. I guess my filter for what's good and bad is not as good as others haha, as they throw away stuff while I keep it. Maybe I should throw away more riffs and songs, but for me it's as fun to write and record a song as I guess it is for others when they actually make a song they are very satisfied with. For me the satisfaction is of course that it sounds cool, but also to finish the song and make it live and breathe and be a finished song instead of just a skeleton of riffs for further work some other time.
You´ve been collaborating with various underground musicians. One of them is the legendary death metal vocalist Kam Lee. What it has been like to work with him?
Kam Lee is a fucken genius if you ask me. But then again he´s always been my favorite growler, and Massacre´s "From Beyond" is the best death metal album ever if you ask me. I was really excited when I was introduced to Kam, and we immediately understood each other very well and had the same ideas about music and what we wanted to do. So it's been really easy to work with him, and he doesn't only arrange and perform his vocals excellent, he also write the best lyrics as well. So it's just been a pleasure to work with him, and especially also to become friends with him. If someone told me that when I got the vinyl of "From Beyond" I wouldn't have even considered that it could happen haha.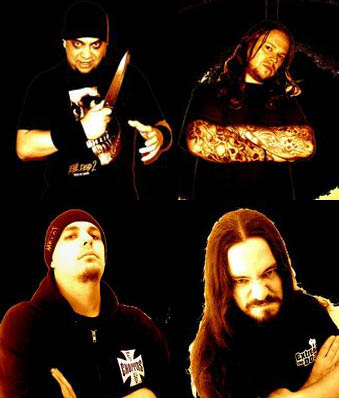 Is there someone you definitely would like to collaborate with and why?
I´ve worked with many of the people I always wanted to, and also become friends with many of them. So in that way I´m very content really. But sure, I would love to write a heavy metal album and have different clean vocalists do guesting on it, but I don't think that will ever happen. I would love to do an album with Blaze Bayley haha! That would be killer, as his solo albums are some of the best heavy metal from the past ten years.

Your band, Revolting, is dedicated to the horror/gore movies from the 80´s. What are some of your all time favorite horror flicks?
As I grew up during the 80's the stuff I came across as a kid was ofcorpse classics like Friday the 13th, Nightmare on Elmstreet, The Fog, The Thing, The Burning, Halloween, Evil Dead all that classic well produced horror stuff and I loved it and love it still today. A bit later when I was a teenager I came across the Fulci and Argento stuff, the classic zombie movies and I love that stuff so much too. So I guess I'm very classic in what I like, all that stuff that everyone into horror likes haha. But it's what I grew up with, and that stuff stays with you through the years. I just recently actually got the dvd box with all Friday the 13th movies on it. That felt great, to have them all collected and on dvd finally. My faves are actually the 3rd and 4th ones. Most likely because those were the first ones I came across as a kid.

Revolting is signed with FDA Rekotz. How has it been to work with them so far?
FDA And Rico who runs it has been just great, very easy to work with and does great promotion, and also takes care of making both vinyl versions and t-shirts when the album is released. So I'm very satisfied with that really.
What are your expectations/hopes for the new Revolting album?
The last one did great, it sold well and got great reviews. So I hope this one will do good too, that people will think it's a good follow up, especially as the last one was the best of them all so far. For me the new one is some of the best stuff I´ve ever written, so I think and hope that people will agree.
I´ve understood Paganizer is your main band and it has a special place in your heart. What makes it more special to you than your other bands except for the fact that it´s the oldest one?
Paganizer was the first in a way, as it evolved from Terminal grip. And what makes it special is that it's the band I´ve played with live, and which we play with live as often as we can. There's been loads of lineup changes and it's been on ice many times but it's my main band, the place where I belong if I just had to chose one band to play with.


Do you follow the underground metal scene much or are you so absorbed in your own work that you don´t have time or just don´t care to keep up with everything?
Don't follow it much, no. I know as much as what I read in the couple of Swedish metal magazines I subscribe to. Of course I come across stuff on the net, but I don't follow it really. And I mostly listen to old bands I know, be it old albums or when they make a new one I check it out. I guess I'm lazy, haha.
What have you lined up for the rest of the year and for 2013?
I don't know haha! Hmmm, the new Putrevore album is out. The new Revolting album is almost released [It's out now! -Jill], and later there will be a split 7" with Revel in Flesh and Revolting. A new Paganizer album is being worked on, and will be out in april 2013, and all songs are written and guitars recorded for a new Demiurg album. Don't know if or when it´ll be out though. I guess that's most of it haha. I'm sure I forgot a few things though… [Since this interview was done, Rogga has resurrected Humanity Delete and their debut album will be out on Dead Beat Media on December 4th, a new Bone Gnawer album was announced for the near future, and a very special new project with Kam Lee and Tony Blakk called Vorgornus is in the works as well.... -Jill]


The last words are yours…
Well thanx man! This was a fun interview to make Lasse!
Roger that! Thank you, Rogga and all the best for the future!







---