Ok just to clear this up, is The Rotted a new incarnation of Gorerotted, or a completely different band?
To us it feels like a new band, but not just some shitty new internet based band that has just come out of nowhere. We are guys that have been working hard and supporting the underground and extreme music since 1997. We have paid with our blood, sweat and tears for any success we have with any bands we play in!
The third and final Gorerotted album was a bit darker musically and image wise than the others. You've taken that to the next level with The Rotted, mixing punk with death metal and grindcore. How has the response been to your new sound?
Gorerotted was a lot of fun and it was who we were as teenagers and guys in their twenties. I wouldn't change a thing about those days but its not who I am now.
The Rotted's sound is a 4 way car crash between British punk, British metal, British Grind and Swedish old school death metal like Entombed and Dismember. It's a car crash that nobody walks away from. The Rotted's lyrics are a lot darker than Gorerotted's and deal with rebellion, anti religion , anti dogma and the general decline of humanity and the end of the world. No gods, no governments, no masters, no heaven and no hell. As we became older and watched the world turn to shit these subjects became more relevant to us than the horror and gore lyrics. As The Rotted's subject matter is more 'real' than Gorerotted's we have some seriously dedicated fans who think and act like us. There are many people out there getting The Rotted and Anarchogram Tattoos (our 2nd logo) and that tells me we really mean something to those guys and that we speak the same language.



How have sales been for your new album thus far? Are you happy with the progress of the album?
Its been ok but even with Candlelight behind us we are still a DIY band. We still run our own store and sell direct to fans and people who want to support us (www.therotted.bigcartel.com). Of course we are always up against downloading which has destroyed the funding for bands like us. We probably get downloaded 100 times more than we ever sell. Which is cool because huge numbers of people hear our music but the downside is it means we have to fund everything from our own pockets, selling gear etc to make albums. The argument that we can 'tour and sell merchandise' doesn't really work. We have been downloaded about 10,000 times from one site alone and we haven't sold that many T-shirts haha! If people want to support what we do then check out our store and website and there is some great stuff available a low prices.
Ad Nauseam has had the best reviews of our career and in my opinion is the first true album by The Rotted. It feels like we are on the right path both musically, lyrically and with life in general.

You've actually played a show in Tel Aviv, Jerusalem and Haifa. What was it like to play a show in Israel? Did you have any reservations about going there due to current events? Did you get a chance to go out and see some of the country? Visit any landmarks? Are Tel Aviv and Jerusalem as war-torn as the Western world believes they are?
Playing in Israel was fantastic. The situation there didn't dissuade us in the slightest, we went to play for fans of heavy metal and punk, the people, not the governments or decision makers, and if Palestinian metalheads wanted us to play for them, we'd gladly go there too. We made it happen via friends in bands in that country. Our drummer was born there so it was great to play his home country. We did a lot of sightseeing and then we stayed in the north of the country at our drummers family farm. Of course we checked out Jerusalem and all the sights but the religious bullshit was really draining. The big cities like Tel-Aviv are just like any big western city. The only difference is armed security guards on the shopping centre doors and an increased police and army presence. You get searched at bus stations and train stations but its just like an airport really. The atmosphere in Tel-Aviv is really cool, nice vibe to the place. In terms of security Tel-Aviv is like Belfast in Northern Ireland but it doesn't feel anywhere near as uncomfortable or oppressive as Belfast.

In two years of extensive touring, what were your best, worst, and most hilarious experiences?
There is just too much to list. Things that seem stressful at the time like being arrested or breaking down in a van are actually funny years later. The funny stuff seems less funny later because its about being in that attmosphere and that moment. If people wanna know what its like to tour with us they should come out to a few shows and hang out with us!


How did you meet the other members of The Rotted? (Reverend Trudgill and Nate Gould)
I met Reverend Trudgill on a train after a Vader gig in London. We sold him a Gorerotted CD and then met up a week later. He ended up staying at the Gorerotted house in London all the time until he lost all his money, his job and drank himself to pieces haha! Later on my wife released Screamin Daemon's album which was Rev. Trudgill and Nates band before they joined The Rotted. Nate moved over from Israel to play metal and hooked up with us. Screamin Daemon and Gorerotted were like brothers, loads of gigs together and parties so it made since to join forces to create The Rotted.

What was it like working with Metal Blade? And what is it like working with Candlelight now?
Metal Blade was ok but its big business and very trend driven, always looking to sign what is 'popular' at any given time. Candlelight signs genuine artists, just check out some of their bands. Its all weirdos, freaks and people making unique music so we fit in nicely there.

Was the new album intentionally released on Halloween or did it just work out perfectly like that? Did you do anything ghastly to kick off the release of the album?
Yeah it was our intent to release it on Halloween, its so cheesy and heavy metal. Last week on Friday 13th we put a new video online for 'Surrounded by Skulls'! We are suckers for stuff like that.


Two days before the Obscene Extreme Festival last year, you famously severed the tip of your finger, but still managed to play the fest. That's true gore! What happened exactly, and how did you manage to relearn to play the songs with four fingers in only two days? Are you happy with the outcome of the performance despite your injury? How is your finger these days? Are you able to play normally now?
I can play but it hurts like fuck some times. It's a year since I did it and its probably as good as its gonna get now. I dropped a flight case on it that weighed 180kg. It really fucked it up. Severed the top of the finger, destroyed the nailbed and broke the bone across the top. It was Wednesday lunchtime and we were leaving for Obscene Extreme on Friday. I had to sit and re-learn the songs the best I could. I'm the only guitar played in The Rotted so there was no options to have someone cover me. I practised in the hotel before the show and just did it. Check out http://www.youtube.com/watch?v=rum_5sm1IHw to see some of the show. It was probably one of the worse things that can happen to a guitar player. Some people cancel shows because they have a cold or some shit. I'm not some people.

Your lyrics are pretty diverse and different, what goes into the lyric writing process? In your bio it says some of the lyrical themes are about the championing of outsiders.. can you explain a little bit about this?
A lot of work goes into the lyrics. Ben does the most work on them and then bounces ideas between myself and Reverend Trudgill. The track NON SERVIAM from the new album sums up our stand perfectly. Our lyrics are about thinking for yourself, standing up to religious and government dogma and propaganda and being the best fucking human you can be in a shit world.
Apathy in the UK.. hilariously clever! Will we see more punk-oriented songs in The Rotted's future? What's next for the band?
We have got some really cool ideas for a video for that song. Hopefully you will be seeing it soon! Music wise there will always be a punk element to our music. Metal these days has got so conservative and we like to mix things up with some punk elements.

12. Thanks a lot for taking time out to do this interview, Tim! Annihilate this interview now...
Thanks for the support! Look out for a Malaysian version of the album soon! (IT'S OUT NOW!)Cheers Tim Carley
www.therotted.com
www.facebook.com/therotted
www.therotted.bigcartel.com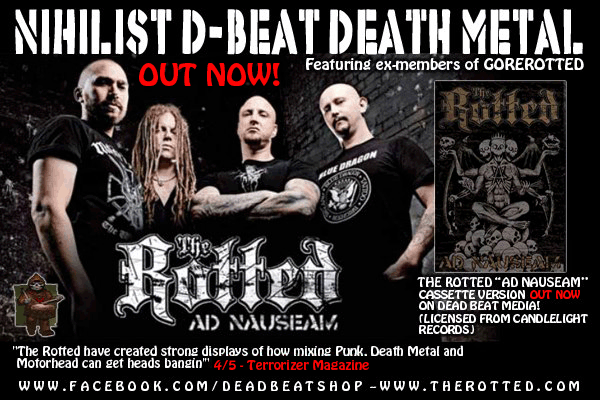 BUY THE ROTTED "AD NAUSEAM" CASSETTE FROM DEAD BEAT MEDIA!

PRICE:
MALAYSIA: rm10
REST OF WORLD: $6.66 US